Backlinks to the site and their types
A link profile continues to be one of the strongest site quality metrics for search engines (SEO) today, especially for Google's SEO.
However, the links are different. They can be conventionally grouped according to the following criteria:
Acquisition method: independent, natural, SEO attack.
Link building tactics: awesome content, social media, guest posts, paid posts, and more.
Source quality: authoritative, relevant, unrelated, spam.
Location: main content, navigation, headers and footers.
The most important factor in building a link profile is how each link will benefit your site. We offer you to understand the classification of backlinks, where we will check links by their weight in SEO .
Useful SEO LinksLinks to useful content
Of course, sites of any quality can link to your content and convey varying amounts of link weight. But here we are going to talk about links from reputable resources as they have the most SEO value. These links are usually the hardest to obtain. They are often organic when people link to you because your content, products, or services are relevant to them. Just imagine a situation: using your services or evaluating a product, a person gives his audience a link to your site. To do this, you need to create quality content that people will want to link to. Link building is undoubtedly difficult, but rewarding. Recent research confirms that links are a very important ranking factor, but even they cannot lead to higher website rankings.
Guest Blog Links
No, the guest blog is not dead. For example, Google discourages the distribution of guest content if there is an intent to create more links to your site.
We do not discourage these types of articles [guest posts] when they inform users, educate the audience of another site, or raise awareness about your business or company.
Google
A guest blog is actually one of the best ways to get a link on an authoritative site. But there will be good link weight if:
sites are in a related niche;
you will only post quality content;
you have good participation statistics (real comments, a significant number of followers on social networks).
Of course, getting publications from well-established sources is not a quick process. Therefore, it is better to start with smaller or less popular sites, which will gradually increase your reputation and authority.
!
You can use various SEO tools to see the backlink profile of competitors who are heavily involved in guest blogging. For example, megaindex can help you find competitors and then study their link profile.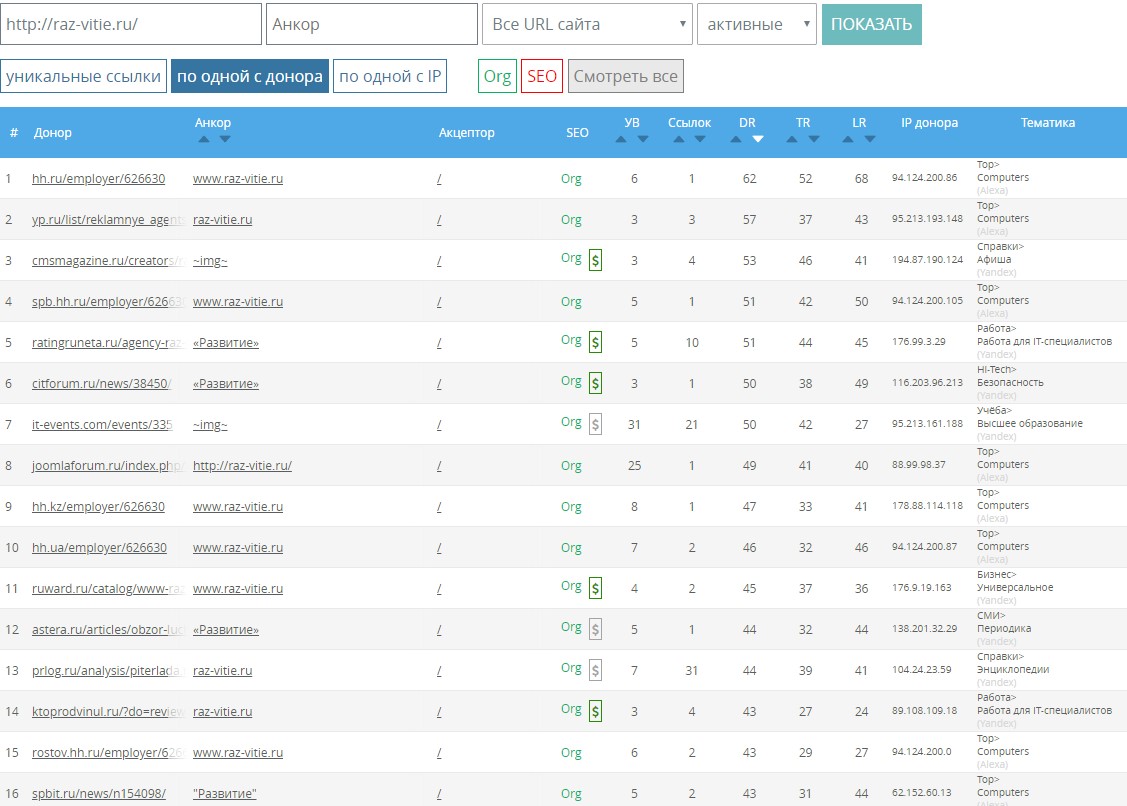 Link confirmation
When you speak at an industry event, sponsor it, or make a donation, you usually receive confirmation from the organizer and attendees in the form of:
links from the organizer's website;
social media posts mentioning your brand and links to you.
If your niche doesn't give you that opportunity, try to find the most important events in your industry. Track them locally and consider if you can give a speech at one of them or otherwise contribute.
Links in niche or local directories
Niche or regional directories are a really valuable source of SEO links. At the very least, they provide a lot of traffic. It is imperative to use quality directories when looking for reviews: Yellow Flamp, etc.
You may have heard that linking in directories generally doesn't help with SEO. How so? In fact, search engines are not "set up" negatively against them. But search engines tend to avoid mass publication in general directories. Therefore, if you are thinking of posting data about your business, then it is safer to choose high-quality sites that will benefit your customers.

Links that are useful for your brand awareness
There are also links that can generate a lot of traffic, but will not give real weight to the site as they come with a nofollow attribute attached. However, this is not a useless thing. If people get to your site, then, of course, there is some benefit from them.
Social media links
Social media posts are treated like regular web pages. Thus, when a link to your site appears in a post, it should be treated as normal.
But here it is worth considering an important point. Most of the links in social media posts are nofollowed. And Google simply doesn't have the resources to crawl all of its social media pages. At the moment, this is almost impossible, since post-exchange, link publication, status update are a separate page for the Google crawler. As such, the search giant has to be extremely selective when it comes to social media, with some posts needing to be indexed and some skipping.
!
Either way, remember: the more attention your content gets on social media, the more credibility you gain. As a result, users see your content and link to it.
Links in business profiles
When you create business profiles for your brand on social media, review sites, or industry directories, there is always the option to leave a link (or several) to the site. Again, most of them will be nofollow, but they will certainly help you in promoting your brand.
Links in comments
The feedback and comment sections are a valuable source of information. People leave their opinion about products and services in order to point out some inaccuracies, provide more information about them, or start a discussion of controversial points. It is safe and helpful to post comments with your point of view, including a link to the site.
However, comments are generally more useful for brand building than for SEO, as most of the links are empty. In fact, comments are the very reason why the nofollow attribute came about. Thus, search engines have learned how to deal with unlimited comment spam, which is compromised by PageRank.
Bio links
Sometimes the only link you can get from a guest post is the link in the author bio, and it will be nofollowed. The same goes for bios on most social media accounts. Although LinkedIn, for example, still allows dofollowing links in the bio section.
Links in press releases
People usually share their product updates through press releases that generate tons of links for them. However, Google quickly realized that most of the press releases were unnatural and were published only for links, so they began to be ignored.
It is not difficult for search engines to identify sites dedicated to press releases, especially those where users can manually add their own content.
Mentions without links
The Internet today is much more than just links and pages. To gauge your site's authority, SEOs look at both the backlink profile and your brand mentions and reputation around them. Moreover, Google Search engine uses brand mentions on the Internet in the search algorithm.
If you already have a link building strategy, you can continue to use it to get brand mentions without worrying about nofollow statuses. Just keep an eye on your brand mentions and connect with people who are talking about you online.
Dangerous backlinks
The link building process takes time. That is why many people are tempted to accelerate it by "gray" methods. Let's analyze the options for placing links, which can lead not only to a decrease in the site's position, but also to the ban of the domain itself.
Paid links
No business allows link purchases. True, many people still buy them. According to research, the most popular ways to acquire links are:
Paid guest posts
Links from bloggers
The easiest option is to buy links. Often, sites exchange them for free. Because such links look authentic, it is difficult for search engines to detect infringement. Perhaps that is why this business is very stable now.
The idea of ​​buying a link may sound pretty appealing, but the consequences can be frustrating because:
Good links are expensive.
Cheap links are more likely to be spammy.
It will take a lot of time and effort to find suitable sites.
There is a high probability that the PS will find out about your link acquisition schemes and penalize the site.
Links in substandard directories or forums
If you create multiple profiles and entries in unrelated and untrusted directories or forums, then such attempts will certainly be considered spam and manipulation.
Links to irrelevant sites
Even if you post quality content on a site that is completely irrelevant to your niche, there is no SEO benefit whatsoever. And if the site is of poor quality, then there are great chances of getting banned. However, links from irrelevant sites are not always a downward factor. When it comes to regional SEO, links from sites in the same region as the searcher's location do more SEO value than links from more relevant sites but from a different city or region.
Links from negative SEO attacks
In some cases, cybercriminals deliberately "arrange" SEO attacks on sites by placing:
A large number of spammy links, including those on low quality sites.
Spam comments in huge numbers on sites where the placement of links is not closed from indexing.
It's impossible to predict an SEO attack, but there are ways to mitigate the impact by regularly monitoring your link profile growth.
Final Words
Now you know where each of the possible link building strategies can lead your SEO campaign. While sticking to the ideal backlink formula (dofollowing a meaningful link from an authoritative niche site) can be tricky, it's best to stay away from dangerous link types.