What are backlinks
A backlink is a kind of Internet index. It links one specific site to other external web resources that contain links to that site.
Outbound links from other sites that lead to your site act as backlinks for you.
Backlinks are an integral part of SEO website promotion. They help search engines crawl your site and understand the topics of the pages. The PageRank algorithm , despite its long and active evolution, still considers the link profile of a specific page and domain as one of the most important ranking factors. This is why every website owner wants to get as many backlinks as possible.
Number and quality of links
Unfortunately, backlinks are not free (especially in the beginning) and it takes a lot of time and effort to create. This is why it is crucial to learn how to make every backlink you purchase as beneficial as possible. That is, prepare the site internally for the most effective external promotion.
To do this, first of all:
carry out technical optimization of the page and the entire site;
create a robust site architecture;
create interesting content.
Now about each step in more detail.
1. There should be no technical errors on the site
But nevertheless they will be. The larger the site, the more likely it is that you will not have time to fix all the errors in time.
Find all technical errors
Conduct an audit of the site and find all technical errors that interfere with the promotion of the site
redirect 302 (URL) ;
404 ;
incorrect use of commands (nofollow, noindex, etc.);
slow website loading speed ;
copies of content (plagiarism);
chains of redirects;
site adaptability ;
canonical errors .
2. Improve your site architecture
A strong and reliable site architecture almost guarantees the effectiveness of backlinks. The better the architecture, the fewer references you need to get the results you want.
3. Create interesting content
But thousands of links and good architecture won't help if you have bad content. Avoid posting bad or so-called "junk" content.
Link placement risks
There are two main linking tactics:
Risky, with a decent chance of getting penalties.
Safe way to place.
Now it is better to choose the second path. Recently the site could be promoted within a month using PBN (Private Blog Network) backlinks. Then Google created a sandbox that forced the site owner to wait at least 3 months for the PBN backlinks to show.
How to check links to a site
It's no secret that getting good quality backlinks is one way to improve your site's ranking on Google. But how do you tell good links from bad ones? Careful selection, verification and analysis of backlinks is a very important task for anyone looking to optimize their sites. There are many different tools that can help you check if your backlinks are trustworthy and can add value to your website.
First of all, check the link parameters:
Start with PageRank

. This is one of the most valuable factors that will have a big impact on your website. The logic is as follows, if sites with high authority link to yours, your site is also trusted. This parameter can be checked by Ahrefs' online link analysis tool. Add the URL you want to the Ahrefs search bar and check its ranking.


Traffic.

The point is, you don't need links from sites that no one visits.

Dofollow / nofollow link.

The

rel = "nofollow"

tag was created to prevent Google bots from crawling all links on the site. Generally, dofollow links are more valuable than nofollow links.
All of the key factors behind these links can be easily investigated with Ahrefs' Batch Analysis Backlink Checker. This is very handy when you have to check a large number of potential donors for desired links. Alternatively, you can check the Domain Rating (DR). Just add the urls you want.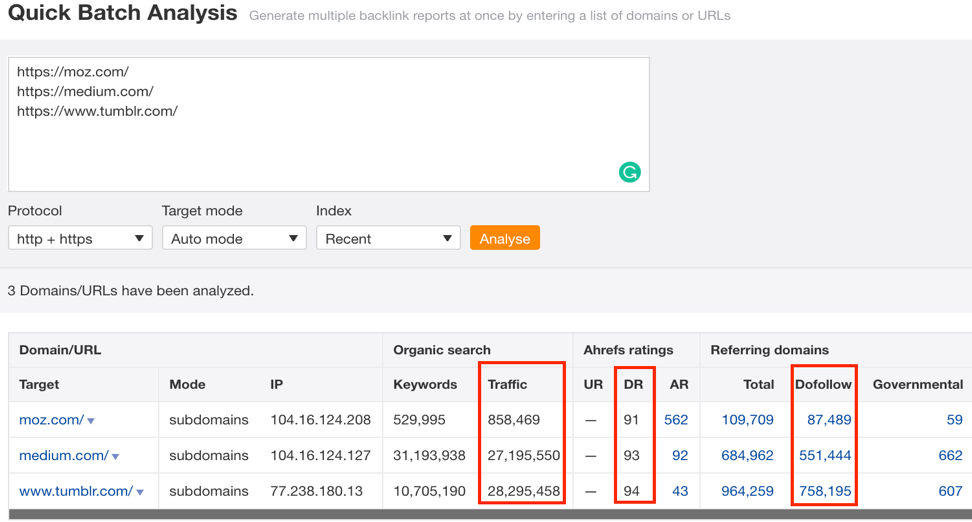 To learn more about using this tool, try Ahrefs' test account . With it, you can check your site, evaluate links, competitor domains and build a winning link building strategy.
Secondly, it is better when the links to the site are relevant to your niche. Such links are called relevant.
What does relevance mean? Let's say you have a website building tips blog, but you've found a reputable makeup trend site. According to Google, this source won't be ideal for you because high-authority sites need to be closely related to yours. The same goes for the content in which your link is posted.
Rules for getting relevant backlinks
1. Maintain the relevance of your links
Relevance depends on the following points:
general subject matter of the content of the domain linking to the page;
the content of the page being linked to;
the relevance of backlinks that refer to the domain.
You can check the relevance of links using, for example, Majestic SEO Trust Flow.
2. Look for reputable sites
Links from reputable sites strengthen your link profile more than regular links. Analyze competitor links with Ahrefs , Semrush , Majestic, Serpstat, and Linkstrategy and try to rank on the authority domains you find.
3. Concentrate on sites with real traffic
A link from a site with traffic looks more natural and will be much more effective. Check domains for traffic with SimilarWeb, Ahrefs, Semrush before linking and you will save yourself tons of time and effort. Your task is to look not only at the total traffic of all types, but to analyze in detail organic traffic, its stability, dynamics and quantity.
4. Be careful when choosing anchors
If the anchor text looks unnatural, and you place it incorrectly, there is a threat of getting penalties. Most backlinks should be branded or non-anchor.
Increasing the authority of your own site
1. Find and fix broken links
Broken links reduce a site's authority. That is why you need to check your site regularly for their presence. You can be helped with this:
Sitechecker;
Google Search Console;
Ahrefs.
3. Eliminate faulty redirect chains
What is a faulty chain? Why is she able to reduce the authority of the site?
When you use a direct thread, it means that when you open one page, you will probably be taken directly to another linked to this one. Indirect chains include what are called buffer pages.
4. Replace the 302 redirect with a 301
Chains of 302 redirects can not only block, but also steal the already existing authority of the site.
Placing basic backlinks
1. Directories with niche purposes
While directories are considered pointless and worthless, there are some that can be useful (especially in the beginning). These are called niche target directories and are able to provide you with relevant dofollow links. Finding them is not so easy, so you need to search for them using the following combinations in a Google search:
Niche + "add site"
Niche + catalogs
Niche + catalog
2. Social networks
Create company pages on the following social networks:
Instagram
Facebook
Twitter
Linkedin
Pinterest
Vkontakte
Initially, such accounts are registered only to receive the first links. Further, you may notice that in some of the networks your content finds a great response from the audience, and more time should be devoted to this site. These links are also necessary for faster exit of the site from the "sandbox", which was discussed earlier.
3. Business listings
There are fewer such lists in Runet than in the West, but nevertheless they exist. Many of these resources are full-fledged search engines with convenient filters and high registration requirements. Some of them can bring you a lot of relevant referral traffic if you complete your company profile.
4. Directories with regional reference
Such directories are an essential source of links for local businesses.
Alternatively, use the following tips to find geo-targeted directories:
Directory + city name
City name + catalogs
City name + directory
niche + city name + directory
add website + city name
Such links will be especially useful for local SEO. By placing links in directories for your target country / region / city, you thus improve the "belonging" of the site to this region. Use services like Whitespark to find similar sites. Find sites from other commercial niches in your target region that use directories.
5. Backlinks from forums closely related to the niche
Try to find forums related to your topic;
Complete your profile with truthful and detailed information;
Adhere to the forum rules;
Post a lot and make friends;
So, when you find the appropriate forum, make sure you create a high-quality profile description. Then study the forum, its rules and how it works. Explore the forum to see if members are sharing links in discussions. Become a reliable person by making more friends and posting.
6. Comments on niche blogs
Posting comments on such blogs helps:
notify search engines about the topic of the site;
get referral traffic;
significantly modify your anchor list;
make acquaintance with bloggers, and then post links already in partner articles.
It is important that the comments somehow supplement, expand the topic described in the article by the author. Write about the best solutions you know, quote from official sources, etc.
7. Merge method
This procedure consists of two stages:
Find the relevant dead domain;
Set up a 301 redirect from it to your site.
8. Effective use of relevant dead domains
It is dangerous to acquire an expired domain. You need to check its history and relevance well. These resources can help you find an expired domain:
PR Powershot;
Freshdrop;
DomCop;
ExpiredDomains.net.
It is important to check the history of such a domain in web.archive.org to see if it was previously used for other topics or spam. It is also important to check the backlinks of such a domain for spam and relevance. If possible, analyze your domain's traffic history to see if it has previously been sanctioned by search engines.
How to earn backlinks
1. The user must be interested in your content
When an Internet user starts looking for something, he tries to solve a specific problem or achieve something. The main goal is to help him find a good solution. Don't be obsessed with article volume and keywords alone. Think about the needs of the user.
There is no difference between 40,000 and 1,000 word articles when we talk about value. Try to create high quality content and ignore any stereotypes.
2. Your content must be unique, engaging and valuable
Why is the content of a site not working? There are several reasons:
His information is out of date. For example, there are almost no people who want to read about the iPhone 5 when the iPhone X already exists.
It lacks research and numbers. This usually happens when the blogger wants to be the first and forgets about quality. He publishes general statements that will not last long.
They do not take into account the level of knowledge of their reader and are considered "too smart and difficult to understand" or "too simple for schoolchildren."
It is not easy to read due to the lack of paragraphs, flashy headings, proper design, images and lists.
3. Do what others don't.
Don't be lazy and improve your content daily. Don't just write short or long articles. Try different options, but don't forget about quality. Remember that some users do not like to read a lot, while others, on the contrary, prefer longreads and a detailed explanation of the problem they are going to solve.
4. Look for new profitable connections
Don't forget about relationships and connections. The blog should not be isolated. Nothing can be better than strengthening relationships with famous bloggers. This is not easy because you have to show that you can be useful to them. This is only possible if quality content is available.
It is important that your name is always visible through repetition of well-thought-out comments and non-binding emails. Ask bloggers how you can help them. This is the best way to start a partnership.
5. Try partnerships with sites from your niche
It should be noted right away that Google imposes sanctions for link exchange schemes. Be careful when partnering with your organic competitors. By getting links from sites from the top 100 according to your target, or even related queries, you will receive a noticeable increase in the positions of your site, since these links will be most relevant to you.
6. Do charity work
Quite a few large trust sites support charities. Some of these sites mention those organizations that donated funds for something. Thus, by making a donation, your site is included in the list of organizations that have made such donations, and you receive a link from the trust resource.
7. Invest in support of different projects or startups
There are many sites like Kickstarter, where everyone can submit their project in a specific niche and collect funds from everyone for its development and support. Some of these organizations have websites where they mention those who supported their project. Thus, you will once again receive a link from a quality donor.
8. Collaborate with personal sites of people in your niche
Many people who are partially or fully engaged in their own business, or work as freelancers, have personal business card sites and blogs. These sites often do not have high SEO metrics. But links from such sites will "carry" your site such characteristics as relevance and thematicity.
Think, who are these people in your niche? For example, your site is dedicated to legal services. Find the websites of private lawyers, analyze their SEO metrics, select the best ones and write them about an offer of cooperation. It doesn't have to be a link exchange. You can agree, for example, about an affiliate program, in exchange for mentioning you as a partner with an active link on the main page.
9. Create your own useful tools
Create useful tools, widget, apps, plugins and other useful tools in your niche. Promote them and get backlinks. For example, you have a travel site. Create your own weather or currency exchange widget (what tourists always need). Offer it to other sites in your niche. Having placed your application or plugin on his website, the webmaster also places a link to you, which will be embedded in the widget, as a link to the author.